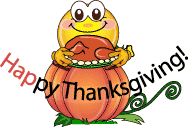 Belonging to the park association costs a whole $2.00 per person for the season. The benefits are too great to mention but one of them is Thanksgiving dinner. Turkey,dressing,cranberry sauce,ham,potatoes and gravy are provided. The cooking is done by Don Soole and Don Howard. Both of them have many years experience in the kitchen and we are so lucky to have the benefit of their expertise. The women of the park bring side dishes and desserts.
"The Dons" volunteer their time and talents. They are not the only ones who volunteer. Many helpers show up to assist with the many duties it takes to pull off a delicious and totally authentic Thanksgiving meal.
Thanksgiving is my favorite holiday. Taking time to be grateful for all we have is often times overlooked and this day is supposed to be just that. A day of gratitude. So be especially grateful this Thanksgiving and thanks to all of you who check in on this site.